General - February 1, 2021
Working remotely. The new normal for speech therapists?
How remote therapy works and what are it's advantages?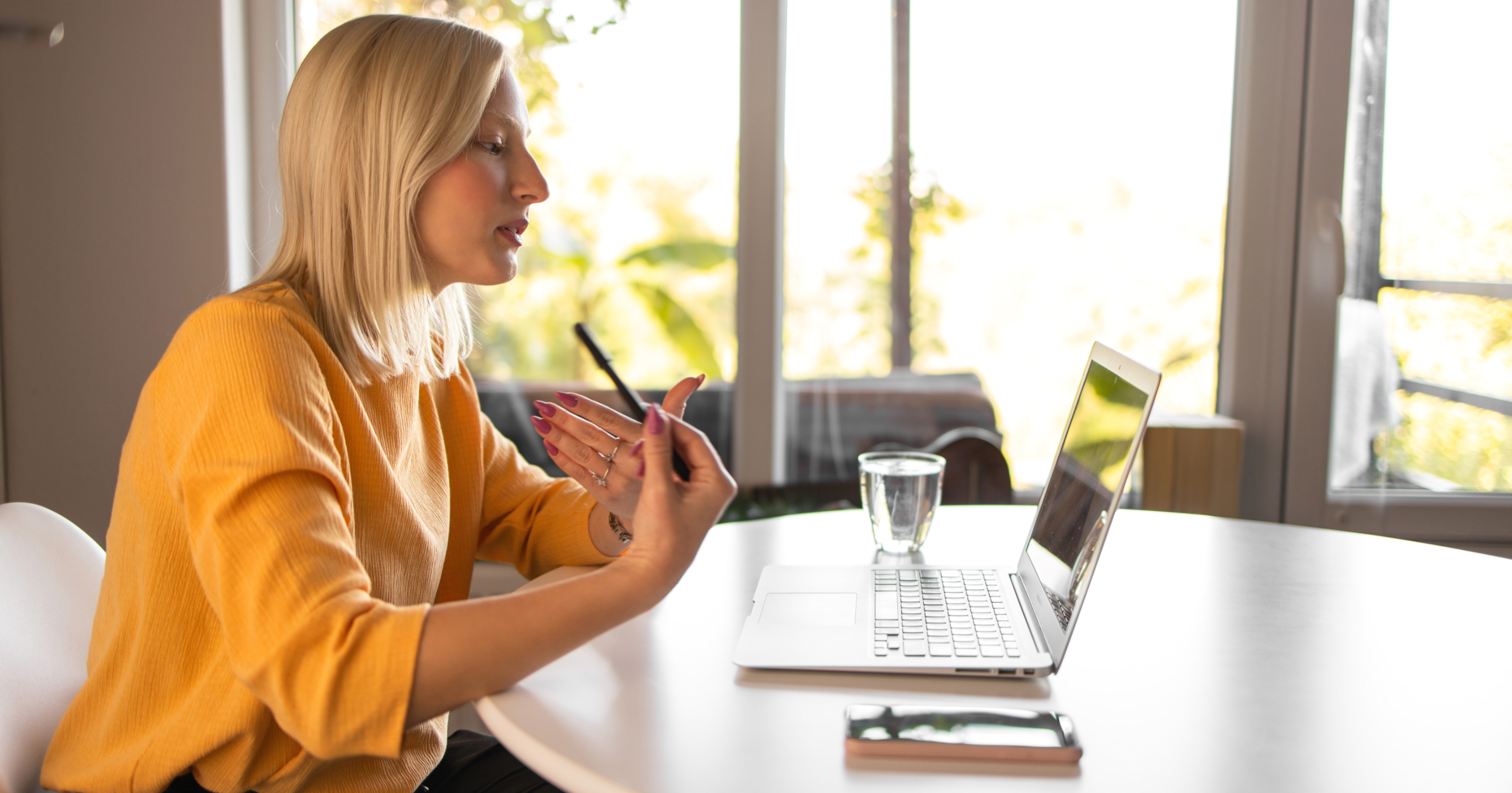 As an experienced therapist, providing remote speech therapy is nothing new for me. I worked in London for a while, and in such a large city working online was the perfect way to allow nine-to-five access to a speech therapist without travelling.
But over the years since, I've found that generally NHS Trusts and patients alike can be reticent about embracing remote sessions. Perhaps worried they won't be as effective, or something will be missed. Or simply being underconfident about the IT requirements.
Recently, however, thanks to Covid-19, many speech therapists (not to mention patients) have been forced to make use of remote sessions. And, on the whole, they're finding that they can work really well.
What are the benefits of remote speech therapy?
The benefits of working remotely are huge for both patients and therapists alike. From avoiding travel costs and time, to reducing the stress and exhaustion involved when those with other medical conditions are forced to attend a clinic.
But perhaps the main benefit has been simply that appointments have been able to continue; keeping those isolating safe, yet still allowing treatment to progress. For those who had received an ENT diagnosis and were worried about a new voice loss or change, those early weeks of lockdown were an anxious time. I felt that being able to meet with them remotely, explain their diagnosis and reiterate conversations patients had with their specialists was important. It was a worrying time for everyone, but more so if you felt urgent treatment might be being delayed.
NHS Trusts who opted to immediately move sessions online in the face of lockdown, have been able to effectively manage their case load, meaning no huge backlog to tackle as services begin to resume. And private practice referrals for remote therapy have increased over the period too, with people experiencing voice difficulties related to lockdown or Covid-19 symptoms or treatment such as intubation.
So, how does it work?
The beauty of remote speech therapy is that no special equipment is needed, as long as the patient has access to a computer with a webcam, speaker and microphone. Ideally this will be an external headset with microphone and earpiece as it puts less strain on the voice, but the microphone built into the computer will work if necessary.
Each therapist will meet with their patients using one of a number of now-familiar videoconferencing tools such as Skype, Microsoft Teams, Zoom or Attend Anywhere, depending on the preferences of the speech therapist or Trust. These allow for a real-time face to face conversation and to record and analyse voice data. And they also mean that practise tasks can be set and monitored over time exactly as they would be in a more traditional outpatient setting.
This isn't a new thing. Speech therapists in many countries, such as Australia, have used telehealth to work with their patients for years simply because of geography, and the distances involved in travel. It's just never quite taken off in the UK.
Remote therapy for Parkinson's – a case study
One of the people I have enjoyed working remotely with during the pandemic, is Roger, a 73 year-old man who had made contact at the beginning of June 2020 to avoid the long wait for NHS therapy.
Roger had been diagnosed with Parkinson's in January and over the course of 18 months had noticed speech changes. He described his voice as 'quiet and mumbly' when it had previously been strong and clear. And he was also struggling with excess saliva. All of which had made him begin to withdraw from activities he'd previously enjoyed as it had a profound effect on his confidence.
As he and his wife were shielding at home, Roger was pleased to find that there was a way he could benefit from speech therapy without having to leave the house.
It's important that Parkinson's patients receive an early referral to a speech and language therapist who specialises in neurology and voice, as by teaching techniques and instigating a routine of daily practise the results can be immediate. And even though Roger's first appointment was via Zoom, he began to make noticeable progress. I was able to help put his mind at rest that voice difficulties and drooling were nothing unusual when it came to Parkinson's. And even better, help to show him that he didn't have to put up with them.
Roger's regular Zoom meetings have given just as much benefit as if they were face to face. In fact, in some respects they've been even better, allowing his wife to be involved in the sessions too. She was able to comment on progress and discuss any difficulties he was having. And she has supported him in his treatment using the Voice Analyst app, recording, analysing and monitoring his voice recordings so they can see just how far he has come. This use of technology has helped his progress immeasurably. His voice has improved to the point that friends have noticed and commented which is a wonderful boost to his self-esteem. And I enjoyed seeing him come out of his shell on screen.
The couple have also benefited from having this focus during their time in lockdown. While other medical appointments and social events may have stopped, they always had something in the diary and something to practise and prepare for. And as Roger's speech has improved, so too has his drooling. He remembers to swallow, is conscious of his head position and keeps his lips closed when listening. He has even avoided the need to take medication to help with the issue.
Needless to say, he's delighted.
And as Roger's world has started to open up, so have his opportunities to practice. From a morning greeting for the post lady to doorstep visits, and longer interactions once garden visits were allowed, he's even started going to the supermarket. So although contacts are still relatively minimal and continually changing dependent on government restrictions, every interaction is an opportunity to practice.
I hope one day to meet Roger in real life, in a loud coffee shop environment that will challenge his voice's strength. Not because there's any need to move away from remote working for effective treatment. But because it would be wonderful to see him in person and celebrate the fabulous results he has achieved.
Roger says:
"Over a period of 3 to 4 months Sam took me through a range of daily practice sessions which have had a huge impact on my voice and also markedly reduced drooling. I have been delighted with the reaction of friends with the most frequent comment being "I can hear nothing wrong with your voice". As a consequence my self-confidence has improved enormously and I have returned to normal social interaction.
I owe Sam a huge debt of gratitude and have asked her to continue with the therapy so that the progress made can be maintained."
Ultimately, I've been delighted by the reaction of my patients to this new remote way of working and have been able to offer flexible service and highly effective treatment to old and new patients alike. Of course, it won't be right in every situation, but I believe remote speech therapy is very much here to stay and should have a place in every modern practice.
If you're a speech and language therapist working remotely with patients, why not get in touch to find out how our Voice Analyst app could help you give your patients more independence and give you the data you need to run the most effective sessions?